How to Survive the Operating Room as a Hijabi!
As part of standard practice, everybody in the operating room must cover their hair, wear a face mask, and maintain behaviors that do not compromise the sterile field. Sounds pretty straightforward really. As a person who wears hijab on the other hand, I'm expected to cover my hijab (even though there is just no way my hair is going to be flying out and about like theirs is). It's just a question of medical culture I suppose. I don't mind covering my hijab as long as they give me the equipment to be able to do it! Unfortunately I didn't necessarily find the 'perfect fit' where nobody could call me out because part of my hijab was showing. So I used the different disposable head covers that they had to make my own disposable hijab cover for the operating room. The good news is that it only takes about a minute to get ready. The great news is nobody can say anything because you're literally all covered, and at less risk of contaminating the sterile field than any of them.
Ultimately the main idea is that sometimes it takes a little bit of creativity to figure out ways you can keep your hijab on and still do your thing, wherever you are, whatever you're doing!
Each day I'm infinitely thankful to Allah SWT for granting me the patience to get through a few annoying/embarrassing/inconvenient situations. I was pushed to think outside the box and I thought I would share this with you! So I made a video (see below) on my Youtube Channel of how I usually cover my entire hijab in the operating room with material available at most hospitals.
In the video, I also describe what I do to address the short-sleeve scrubs issue. This is what a normal scrub top looks like, everywhere, as far as I know: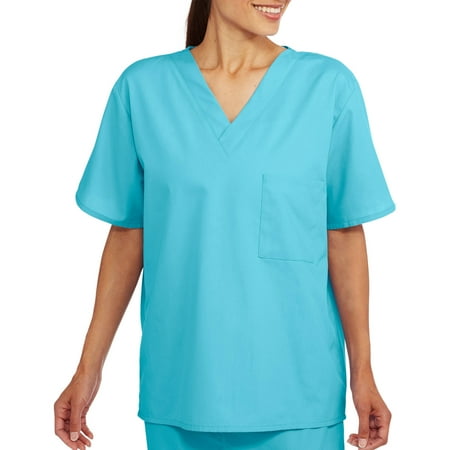 As you can see there are 2 problems: (1) there's a big V-neck that shows everything (2) it's short sleeved. The first problem is easy to solve: just tuck your hijab in the shirt when you're in the operating room area and wrap it over when you're outside that area, if you wish. The second problem is also easily solved. I usually walk around with my white coat over my scrubs when I'm outside the operating room designated areas. Then there's a door beyond which you cannot wear your white coat so that you don't contaminate everything. (I forgot this major detail once and I got some serious lip you guys so please don't forget to take your white coats off when you're supposed to.) That's when there are usually long sleeved scrub jackets hanging around that the nurses and the anesthesiologists wear when they get cold. Grab one and wear it to the operating room itself. If you're not scrubbing in, then you can keep it on. If you are, then take it off, scrub in, and the nurse will glove and gown you using a sterile technique and you're fully covered again. This way, your arms are only exposed for two minutes or so, and it's really no a big deal in my opinion. We're only asked to do what we can by our Creator, and this is how I was able to do that.
This is what you will look like once you're fully scrubbed in, only your neck won't be showing at all if you try the technique in my video (see below) of how you can cover your hijab completely in the operating room.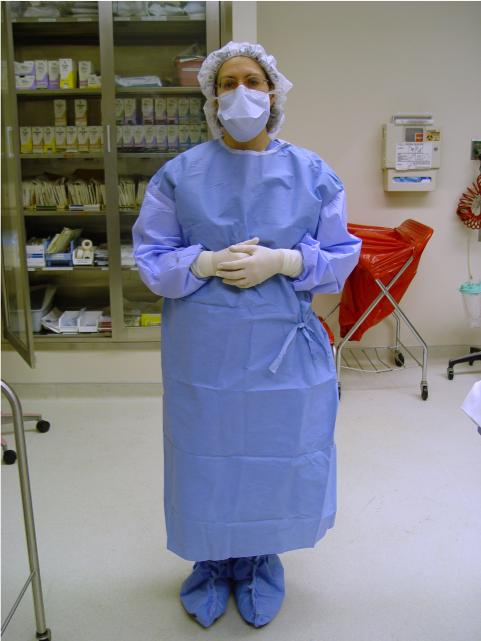 Here's the video:
Hopefully you'll be inspired to try something like this where you're rotating!
---